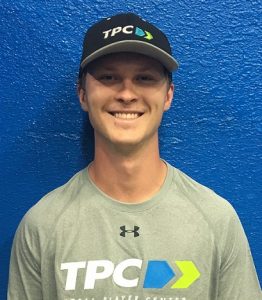 TPC Trainer since 2017
Email: [email protected]
Instruction Disciplines:
Hitting
Catching
Fielding
Strength & Conditioning
Total Player Development

Background:
Daniel Jackson grew up right here in Pleasanton, attending Amador Valley High School. He was a two year varsity letterman, and helped the Dons to a NCS Championship in 2013 – his senior year. DJ was a first team All League selection and a second team All Bay Area. From Amador he went straight to Long Beach State to become a Dirtbag. He graduated from Long Beach with a major in Consumer Affairs and a minor in entrepreneurship.
Playing Experience:
As a catcher going into Long Beach, DJ switched positions to first base after his sophomore year because of shoulder surgery. Without missing a beat, DJ came back and led the team in average, home runs, slugging percentage and was third in RBIS – despite missing the first 18 games. His senior year was productive as well, playing every single inning and batting leadoff or second – leading the dirtbags to their first solo Big West Championship since 2008 and hosting Regionals and Super Regionals. He was also on the short list for a NCAA Gold Glove at first base after fielding .998. DJ is the first Dirtbag to have three Regional appearances in his career since the early 2000's. He ended his career at Long Beach hitting .286 with two All Big West selections. He now plays for the Sioux City Explorers in the American Association. Through his first 35 professional games he was used as a utility player, playing catcher, first, left and right field. He will be going back to continue his professional career next summer. DJ brings dynamic energy to TPC every single day, no matter what. The work ethic he instills in players is effective over all ages groups. He brings a depth of knowledge of hitting that will allow personalized drills to make players better every day. His ideologies are straight from the D1 and professional level, showing players what it is like to play at the next level.