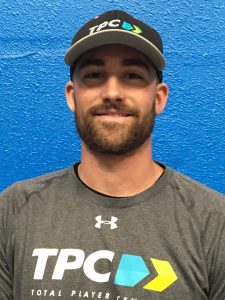 TPC Trainer since 2015
Email: [email protected]
Instruction Disciplines:
Pitching Mechanics

Hitting
Fielding Skills
Total Player Development
Background:
Evan Brisentine has been around TPC for over 10 years now as a student and an instructor. From taking private lessons, to being a part of the high school Power Throwing program, Evan has evolved into an experienced and knowledgeable pitcher. As an Instructor, he brings together a wide variety of drills as well as incorporates the mental philosophy behind pitching. He has experience working with kids of all ages in every aspect of the game.
Playing Experience:
Evan grew up in San Ramon and graduated from California high school in 2011 and continued to play 4 years at Santa Clara University. After graduating in 2015, he went to play internationally in Melbourne, Australia For the Melbourne Demons of the Victorian Baseball League. When he returned to the U.S. he continued to be an instructor at TPC until he got an offer to play in Zurich, Switzerland for the Zurich Barracudas of the Swiss National League. As a left-handed pitcher, he has been successful by taking pride in commanding multiple pitches, as well as relentlessly continuing to build endurance and velocity in his pitching.
Coaching Experience:
During college, Evan coached with the RD academy, a youth program affiliated with Santa Clara University. He was the head coach of the 14U Junior Broncos for two years. In Australia, he was the head coach of the 16U Melbourne Baseball club youth team. In Switzerland, He was the assistant coach for both 12U and 14U club teams, as well as helped out with the 15U Swiss National Team.
Send a message to this TPC Instructor for questions or comments :