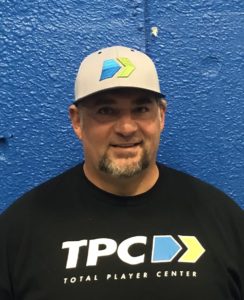 TPC Trainer since 2019
Email: [email protected]
Instruction Disciplines:
Speed/Agility
Mobility/Fitness
Weight Lifting
Power Throwing
Background:
Played baseball and attended both St. Francis High School and De Anza College, but a knee injury and subsequent rehab process, Gene found an interest in strength training and conditioning.
Education:
Graduated from St. Francis High School, graduated with a BS in Kinesiology and Masters Degree in Kinesiology and Sports Management from San Jose State University.
Coaching Experience:
Started as a Strength and Conditioning Graduate Assistant at San Jose State assisting with both Football and Men's and Women's Basketball teams and oversaw the training of Soccer, Tennis, and Baseball. Baseball program went on to College Baseball World Series in 2000.
Moved on to University of Cal Berkeley as an assistant to Football and Men's Basketball, and oversaw the training of Baseball, Rugby, Lacrosse, and Men's and Women's Soccer. Trained numerous professional and Olympic athletes and was a part of two National Championship teams during a four-year tenure.
Became the first Director of Strength and Conditioning at Saint Mary's College in 2003. At one point worked with every single team with athletics, including Football, but spent the most time working with Men's Basketball, Baseball, and Volleyball. During an 11-year tenure, coached MLB players Mark Teahen, Kyle Barraclough, Kyle Jensen, Corbin Burnes, and Patrick Wisdom, NBA players Patty Mills and Mathew Dellavedova, and was a part of numerous conferences championships, NCAA tournament appearances, including a Sweet 16 appearance for the Men's Basketball team. While coaching at St. Mary's also coached two TPC alumni in Alex Schmarzo and Taylor Reid.
Accepted a High Performance coaching position at University of the Pacific focusing primarily working with technologies related to training and statistics/analytics for performance and injury prevention.
Also worked with San Francisco 49ers, USA Rugby National Teams, and has coached 3 Weightlifters to National meets. 
Certifications:
Certified by the NSCA as a CSCS professional, USAW Level 1 Certification, USAW Sports Performance Certification, SAQ Certification (Speed/Agility/Quickness), TRX Certified, TRX Group Certified, and SMR Certification (Self Myofascial Release Specialist).
Gene can not only help any athlete achieve new levels in training ranging from full athletic testing and evaluation, customized training programs, expert strength technique teaching, sprint and agility performance and technique training, Olympic Weightlifting, and care and prevention management.
Send a message to this TPC Instructor for questions or comments :