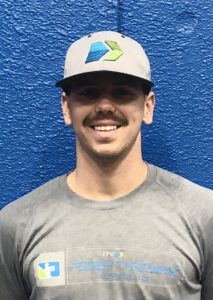 TPC Trainer since 2019
Instruction Disciplines:
Pitching/Throwing Mechanics
Total Player Development

Power Throwing
Background
Joe Navilhon is a proud TPC Alumni. Beginning at the age of 13, Joe took part in Power Throwing Program. Navilhon uses his experiences to give him an advantage on the playing field. Playing the game of baseball at the highest levels, including the Division 1 level and Professionally. His experiences with his many teammates who have also played the game at the highest levels. And his experiences in the classroom, to make him an all around athlete and pitcher.
PLAYING EXPERIENCE
Joe Navilhon is a native of the Bay Area playing for travel ball programs Norcal Baseball and Zoots baseball. In his time with those decorated travel ball programs, Navilhon played alongside teammates Braden Bishop (Seattle Mariners), Drew Jackson (LA Dodgers), James Marvel (Pittsburgh Pirates), and many others. Navilhon attended Freedom High School in Oakley, CA where he had a decorated career. During Navilhon's high school career, Freedom High won one NCS Div.1 Championship (2009) and Navilhon's role on that championship team was the team's closer. Over 4 years at the varsity level, Navilhon posted 10 wins with a 1.93 ERA in 148.1 innings with 154 strikeouts. Navilhon went on to receive a baseball scholarship to Cal State Fullerton. Navilhon's Freshman year of college at Cal State Fullerton (2013) the team had a 50-10 record. Navilhon was teammates with Major leaguers like Matt Chapman (Oakland A's), Michael Lorenzen (Cincinnati Reds), Chad Wallach (Miami Marlins), JD Davis (NY Mets) and Thomas Eshelman (Baltimore Orioles). After battling injury during his freshman year, unfortunately Navilhon underwent Tommy John Surgery on Agust 30th, 2013.  Navilhon transferred from Cal State Fullerton to Chabot College in Hayward, CA where he rehabbed his elbow and missed the 2014 season. Navilhon went on to play for Chabot College in the spring of 2015 as a red shirt Sophomore where he posted a 2.97 ERA in 30 innings with 25 strikeouts. Navilhon was awarded the 2015 Coast Conference Reliever of the Year. Navilhon then went on the receive a baseball scholarship to the University of Southern California. In Navilhon's redshirt Junior season at USC he was awarded the Friday Night starter role, where he went 5-5 with a 3.37 ERA in 82.2 innings with 71 strikeouts. Navilhon was an All- Pac 12 representative for the Trojans in 2016. Navilhon was drafted in the 21st round in the 2016 MLB Draft by the Detroit Tigers. Through 3.5 professional seasons, across the A-AAA Level, Navilhon has posted 3.18 career ERA in 207.2 innings with 247 strikeouts with only 48 walks.
COACHING EXPERIENCE
With his background and unique experience through college and professional baseball with injury, setbacks, and success Navilhon offers a unique approach to TPC that will help develop the next level of players.
Instruction Disciplines
Pitching
Throwing
Power Throwing
Total Player Development
Send a message to this TPC Instructor for questions or comments :