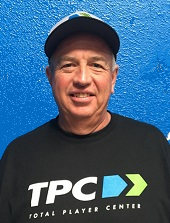 TPC Trainer since 2018
Instruction Disciplines:
Hitting Mechanics
Pitching Mechanics
Catching
Total Player Development

Fielding 
Background: 
Coach Fisher discovered his passion for baseball in 1965. He still has a scorecard from a 1966 World Series game pitched by Sandy Koufax. After a successful experience in Southern California youth baseball, he moved on to play four years of college ball, two years professionally and a year internationally in Australia. John began coaching while in college, working camps and clinics as well as training teams. Over the past 30+ years, John has coached at youth, high school, college, professional and international levels.
Coach Fisher opened his first baseball academy (Ultimate Performance Unlimited) in Martinez, in 1987. He has owned two other academies since. Baseball USA (Nationals) Academy in San Ramon and On Deck Sports Academy in Dublin. His academy travel teams have won over 100 top level tournaments, 3 state championships, 1 AAU World Series and finished top ten nationally five times. Over 50 of his players have gone on to play college baseball in the past six years. He has conducted training for 9 different little leagues, countless teams and coaches, and over 10,000 individuals.  Coach also has a graduate education in Sport Psychology from Cal State Fullerton. He has done mental skills training with the California Angels, as well as collegiate and top amateur athletes.
Playing Experience:
John grew up playing youth baseball in Southern California. He was a two year All Southern California Conference first baseman at Rio Hondo Community College. He then moved on to play at Division I U.C. Santa Barbara and participated in the 1983 NCAA Championships. He finished with a cumulative college batting average of .336. John had a brief minor league experience with the California Angels and finished his playing days with a team in Melbourne, Australia.
Coaching Experience:
John began his team head coaching career at the high school level (JV and Varsity) in Southern California at La Serna High in Whittier and Santa Fe High School in Santa Fe Springs. He was an assistant coach at U. C. Santa Barbara where his duties included, hitting instruction and recruiting as well as charting and statistical compilation. He spent part of a season as an assistant coach for an Angels scout team before being hired as a head coach for a regional team in Australia. He married in 1987 and moved to Northern California where he began academy teaching and coaching elite travel teams. John also coached an undefeated Northern California team in the California Cup vs. Southern California in 2005.
Instruction Disciplines
Pitching, Hitting, Fielding, Catching, Total Player
Send a message to this TPC Instructor for questions or comments :