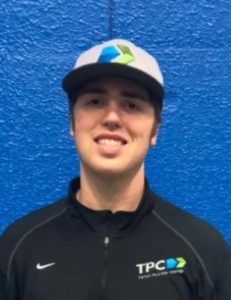 TPC Trainer since 2018
Instruction Disciplines:
Pitching & Hitting Mechanics

Power Throwing 
Fielding Skills
       Strength/Speed Training
Bio for Sam Mandel
Background:
Sam joins the TPC staff as a recent college graduate. Sam attended Bentley High School and Linfield College and began training with TPC in 2012 and continued throughout his playing career.  He is a multi year alumnus of the Power Throwing Program and Advanced Pitching Mechanics.  Sam has also served as a camp instructor, college intern and business contributor.  We are excited to have Sam on board to share his first hand playing and TPC student experience with our current and future students.
Playing Experience:
Sam has had success as a player all the way to the college level. Through his experiences, Sam brings an array of perspectives on the game to the TPC staff.  Sam has an experienced background in Baseball. As a player at Bentley High School, Sam was a starter on the Varsity team for three out of his four years. In 2015, Sam received 1st team all league honors in a season in which he threw 4 complete game victories against league opponents and set the school's single season record for strikeouts with 71 in just 65 and 1/3 innings. Following his time at Bentley, Sam gained college experience playing in two out of his four years at Linfield College.
Coaching Experience:
Sam has been a coach at TPC since 2016 when he was back home training in the off-season. Sam also has experience assisting at a number of USA Baseball National Team Identification Series (NTIS) events. As a coach, Sam brings a players perspective to the game and specifically the art of the pitching.
Instruction Disciplines
Pitching, General Throwing, and Weight Lifting
Send a message to this TPC Instructor for questions or comments :